Rolling Gate Motor (Opener) Staten Island
Trying to operate manually a commercial rolling steel door in the cold winters of NYC which is not motorized, using the chain system can turn into a nightmare when the temperatures drop. Winter months are the months we get the most calls for rollup gate services including gate operators repairs or replacement. And the reason is that using the freezing steel chain to open or close the gate, or to push up a heavy rolling steel door can become impossible. Although it is better to install the opener at the same time when you install the rolling steel door, many business owners in Staten Island assume that it is better to install the rolling steel door first, and in the future to add the electric motor. In some new rolling steel doors set ups they might be right, but it is not always like that. The set-up of a new opener-driven gate is different than the installation of rollup gate or rolling door which will be operated manually. And it is always better to plan ahead. So if you are thinking about making your rolling gate in Staten Island opener-driven one, let the installer know that, so he can make the preparations and set up for a roll up gate that can be motorized in the future.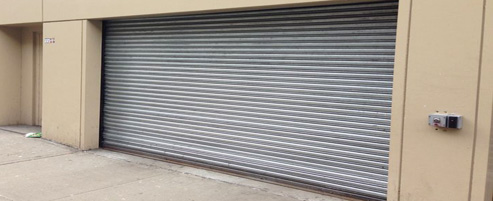 Which operator to install?
Each rolling gate require different motor. No one will expect a small center opener for a push-to-open gate which is being used once a day in Staten Island, to fit a parking lot rolling steel door in Staten Island which is being used 100 times a day. Each gate require a different motor, and a qualified gate technician should be able to determine which one is the best opener for a particular gate. The size of the gate together with the materials that the roll up door was made of (Some rollups in Staten Island are made from Aluminum and they are much lighter than the heavy duty steel rolling doors in New York City). Before making your rolling steel door opener-driven by installing a new operator, ask yourself few questions that will help you make the right decision on your way to a new rolling gate operator.
What you need to know:
How many times a day the gate will be opened and closed (For rolling gates which are being used multiple times a day there is a need for heavy duty motor such as Power Master motors).

Do you plan to install the new motor at the same time as the gate set up?

What type of rolling gate it will be?

Is there electrify power outlet near the gate?

Will you be using key switch and remote control to open and close the door?

How much money you are willing to spend? If you do not have enough funds for the high quality motors such as the Power Mater or Lift Master, consider waiting with the opener set up until you will be able to afford a high quality motor.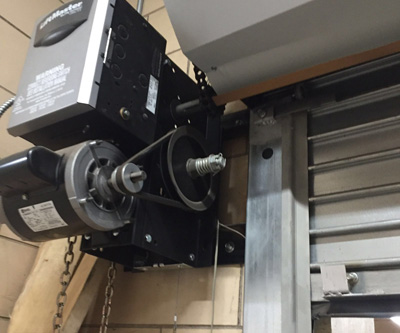 Roll up gate opener services, Staten Island, NY
Before elaborate about repairs and services for electric rolling door repairs in New York, one thing need to be declared, since it can help you better understand rolling steel doors: Not every rollup opener in Staten Island can be repaired, and even if it can be fixed, it is not always worth to repair the existing opener. In some events of rolling door opener troubleshooting replacing the unit and set up a new opener will be the best decision. People tend to assume that repairing the opener is always the cheapest and the best choice. We want you to know something: repairing the opener is not always the best decision. A rollup gate opener which broke in a way that damaged the way it operate will never be as strong as it used to be. And during servicing rolling gates and garage doors in Staten Island, we had many service calls where the opener was damaged, and the customer refused to replace it and insisted on repairing it. We refused to do so, since we knew what about to happened, the opener will seize working again soon.
There are problems that can be solved by a qualified service provider, and those issues should be repaired, and replacing the opener will be a waste of money. And there are opener repairs that should even be done, since the opener will not last for long. If you need rollup door opener service near Staten Island, get in touch with All Staten Island Garage Doors, and we will solve the problem today.
Why the opener is not responding?
Read farther and you will find the answer, but before we try to answer the question, we first like to tell you that even if it seems like the rollup opener can't open up the gate, it does not mean that there is something wrong with the opener itself! All Staten Island Garage Doors get daily calls from businesses owners who tell us that the storefront gate opener is broken, and when our technicians arrive, they discover see that the opener is working, and what broke is actually another part of the gate.
Let's take for example a common rolling steel door problem such as off trucks rollup gate. If the gate is off trucks and jammed, the opener will not solve the problem, and the gate might not work anymore. In that case trying to make the gate work using the opener will only lead to a bigger problem, and eventually cam lead to destroy the opener as well.

Now that we explained that not every time the opener can't lift the gate it is necessarily a problem with the operator, we can try and provide answers to the question why the gate opener stopped working. So to answer the question "why the opener is not working?" know that it might not even be an issue with the motor, but a problem with the rolling steel door itself.
In general, we can say that there are usually few reasons why the gate's operator stopped working:
The problem is with the gate itself (If the gate is broken it should not be used with the electric opener).

The problem is with the operator of the gate (Yes, sometime it is the motor).

The problem is with the electric power (If there is no electric power, the motor will not operate the gate).

The operator installed is not the right operator for the gate (If the rolling door is too heavy for the motor, it might not be able to lift the gate).

The gate was installed by someone who is not qualified to install commercial rolling gates motors.
Commercial rolling steel door opener Staten Island
The commercial doors Staten Island can sometime be used 100 times every day, and sometime even more. Simple calculation, of a rollup door which is being used 100 times a day, lead us to the result of a rolling steel door which is being used around 36.500 times a year! And if it is commercial heavy duty or rolling steel door, it need a heavy duty motor, such as Liftmaster or Power Master Gate motor, That will make the gate work whenever it is needed. And if it is a commercial rollup door which being used that many times, this is not the place to try and save money by purchasing the cheapest and lowest quality rolling gate operator. The difference between high quality rollup door or rolling steel door opener and low quality gate operator can be double and even more. But what you think you will save by installing the cheap rollup door operator, you will spend later when the operator will break since it wasn't the right opener for the gate. If you own a commercial rolling steel door in Staten Island, and you need new motor, invest your money in high quality motor. You will save money since you won't need to deal with the opener again in the near future.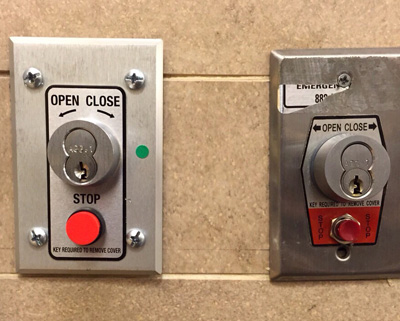 Storefront rollup gate operator Staten Island
If you want to turn your manual operated rollup gate into opener-driven one, All Staten Island Garage Doors can help you with that. We offer solution for all types of rolling steel doors, including storefront door repairs in Staten Island. The storefront shutters are usually being used once or twice a day: When the shop is open and when it closed. And as a business owner, you probably know that if you can't open the store in the morning, it means a loss of time and loss of money, and that your clients or even your employees will not be able to access the store.
But storefront doors issues do not show only in the mornings. If you can't secure the store since you are unable to close the storefront gate, it also mean losing time and money, since you will have to wait for a storefront door reprimand in Staten Island to come and fix the storefront gate. But even in the event when the rollup gate stopped working, whether it is opener issue, or a broken spring, we can help. With our emergency rolling steel door repairs Staten Island, we can be there within an hour and help you get the rollup door working again. But we are not limited just to Staten Island, you might be in need for emergency rolling gate repair in Brooklyn, or for garage door service in New Jersey, we will be there for you.
Gate operator's accessories
There are different opener-driven rolling steel door accessories to fulfil different purposes. Some rolling steel door owners want to be able to open the rollup door using a remote (Clicker), and some want to be able to open the gate using a key. Some want keyless entry, and some prefer to be able to open the rolling steel door both from inside and outside. There are many solutions to different issues, and different options for different requirements. The important thing is to tell the installer what you need, and make sure you get what you expected.
If one of the accessories of a rolling steel door is not working, All Staten Island Garage Doors can help. We supply and repair motorized gate accessories for opener-driven commercial steel doors in Staten Island, and we have the knowledge to provide different security solutions. No need for a new opener just because the key-switch is not opening the gate. We can repair or supply you with all motorized gates accessories.
Rollup opener technicians in Staten Island
To be able to deal with the commercial rolling steel doors operators that can be found in Staten Island, you must have the knowledge and the experience that only years of servicing and installing rolling steel doors and installing garage doors near Staten Island can teach, and only countless amount of rolling steel door services can teach you. You also need to have the special tools which are required I order to deal with commercial rollup doors that can be found in Staten Island. All Staten Island Garage Doors have teams of rollup service providers ready for your call, and ready to make your opener-driven rolling door work again. With our same day service, we will repair the damaged motor, or install a new one. Depending in your needs. It can be s storefront rolling steel door in Staten Island, or commercial rolling steel door repair in Queens, we are ready to help.
The specialists of All Staten Island Garage Doors know one thing: They should never leave a customer before making sure the rolling steel door is working properly and safely, and that you got what you expected. The commercial rolling steel doors need to work at all times and in any Staten Island weather, since when a commercial opener-driven operator is not responding, it means loss of time and money for the store owner. For same day rollup door opener repair in Staten Island get in touch with us today.
We have the parts and the knowledge to deal with any commercial rolling steel door in Staten Island. And we also supply and install top quality gate operators such as Lift master and Power Master. Quality is what we aim for, and years of servicing garage doors and gates in Staten Island New York is what made us one of the leading rollup doors and garage doors supplier in New York. If you would like to learn more, we welcome you to visit All Staten Island Garage Doors Yelp Page, and read what our clients in Staten Island have to say about us.
Rolling Steel Door Motor, Staten Island
Call: 917-794-3040.